In the beginning of 20th century, entire continent of Europe was on the fringe of war. New weapons and measuring tools therefore was on high demand.
Whence immense funds flowed into Europe. Making industrialization facilitate at a rapid pace. Aircraft then invented and manufactured in numerous places.
New and applicable vehicles have appeared in the world. It also shows that transportation, traffic, and war time strategic will be forever changed in a drastic way.
Under this premise, and much like the invention of smartphone. People will find according ways to adjust to it, and eventually create new orders.
Remember we talked about watches and its origin? People are sometime easy to forget. You can click here to brush up.
But essentially modern watches are evolve from pocket watches. And the dude above, Alberto Santos-Dumont got something to say to Cartier.
Being a pilot/aircraft inventor/fashion designer. He complained a few issue of timepiece at that time. Since he was dedicated to take the Deutsch de la Meurthe prize.
The prize of 100,000 francs was available from May 1, 1900 to October 1, 1903.
This aviation competition require contestants to pilot their machine do a round trip from the Parc Saint Cloud to the Eiffel Tower and back in less than 30 minutes.
In the entire journey you'll have to maintain an average ground speed of at least 22 km/h (14 mph) to cover the round trip distance of 11 km (6.8 mi) in the allotted time.
Now, things just got serious. He need to go full throttle on this competition, can't let anything to distract him from it.
First, pocket watch is still a relatively new thing, with technology at that time can't avoid the easily broken fate by bumpy flight.
Second, how is it possible with one hand steering, another taking out the pocket watch, flip it open and look for the time?
And lastly the third, Santos being Santos and said, can you combine the first two requirements and make it fashionable?
And what did Louis Cartier the Parisian watchmaker also his near friend say? He gave this unique style of watch designing as his answer.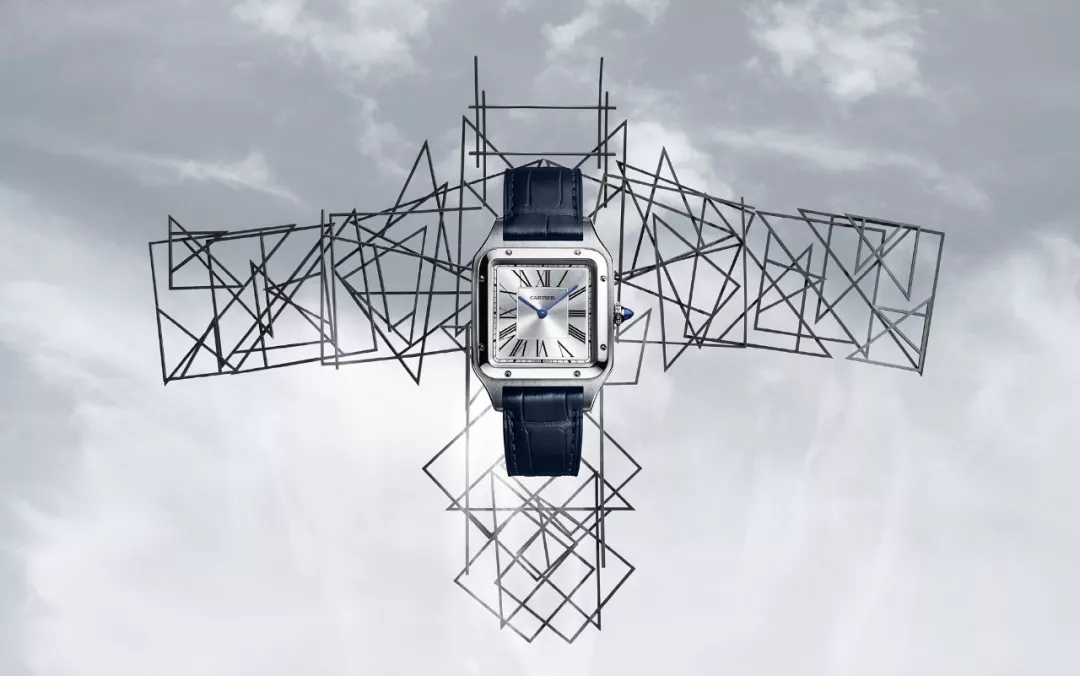 Hence the Santos Cartier you saw today. Louis Cartier threw the pocket style out of the picture. And put the movement into a secure square case.
Also change the style into wrist worn. Multiple symmetrical crews to hold the glass in place. Also making the entity robust to prevent any crash landing.
Louis didn't just delivered that. With his whimsical mind, Roman numerals became incarnation of Paris's streets and boulevards, screws as feet of the Eiffel Tower.
As many legendary story goes, This Brazilian man finally won the prize after a few combustion on his dirigible and several crash landing.
Since then, Cartier's design aesthetic has truly defined. And stick to today through decades of variation.
________________________________________________________________________________________________________________________
Now we got the source of first pilot watch, but who's the first to took challenge to the sky?
Our sassy Alberto Santos-Dumont or the more commonly known Wright brothers?
Well, unfortunately there's still debate to it. But what we can tell you something can't debate.
That is Santos's the first PILOT to fly with a PILOT WATCH.
He took flight for 21.5 seconds, with a Cartier watch on his wrist In November, 1906.